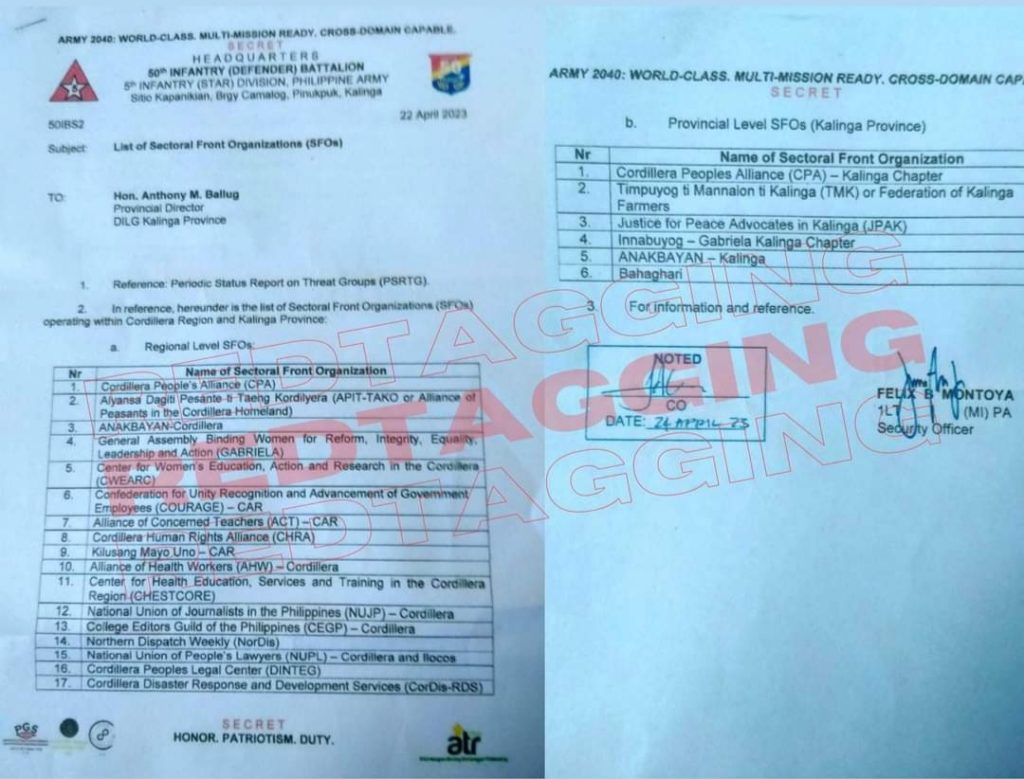 The Cordillera Women's Education, Action Research Center (CWEARC) strongly decries Resolution No. 2023-24 issued by the Provincial Task Force to End Local Communist Armed Conflict (PTF-ELCAC) of Kalinga province, entitled "A Resolution Strongly Urging All Cities and Municipalities of Kalinga to Require All Entities Representing Themselves as Non-Government Organizations (NGOs) to Secure Permission from LGUs Concerned Before the Conduct of Any Activity in the LGU." The resolution came with a list, the CWEARC included, issued by the Philippine Army 50th Infantry Battalion of the Philippine Army (IBPA) of 18 NGOs in the Cordillera "labelled as "sectoral front organizations" of the communist movement.
We denounce these outright acts of redtagging which makes us open targets of human rights violations. The list issued by the 50th IB is baseless and dangerous and poses threat to our safety and security. These acts of redtagging are violative of the right to association and the basic principle of International Humanitarian Law to distinguish civilians from combatants. The said resolution and list also outrightly deprives communities in the province of access to much-needed social services that our institution, along with the 16 other listed organizations, such as Community Health Education, Services and Training in the Cordillera (CHESTCORE) and Cordillera Disaster Response and Development Services (CORDIS RDS) can extend or are currently extending.
For the record, CWEARC has facilitated support services of capacity development for grassroots women in the Cordillera since its inception in 1987. We facilitated the setting up of daycare centers, Kalinga included, and a Women Crisis Center for VAW victims; conducted relief in Kalinga and other provinces during the Covid 19 pandemic, to name a few. Earlier projects that CWEARC set up in Kalinga, all aimed at lessening the burden on women and children include ricemills and water systems, dispersal of farm tools as well as seeds and swine. Women were also trained on project management and bookkeeping. We are proud to have worked in partnership with women and their communities in Kalinga and the rest of the region, for the recognition of women's full potential as leaders of their communities. Presently, our institution focuses on women's mental health and protection mechanisms for women, such as legal awareness, which are all pressing concerns of women at this time.
We are therefore urgently appealing to the provincial government of Kalinga to investigate the said resolution and the list, and to support our appeal to have these withdrawn in the spirit of upholding and protecting the human rights of all. We also strongly urge the Commission on Human Rights to swiftly investigate PTF-ELCAC's Resolution 2023-04 and the 50th IB's list of "sectoral front organizations".
We demand an immediate halt to all forms of redtagging, and we call for the respect of human rights to work for the betterment of society without fear of persecution or harm. We urge authorities to uphold the human rights and ensure the safety and well-being of all individuals and organizations working towards genuine social change and sustainable development.***